Accommodation, Hotels restaurants dans la Vienne
Add to my travel notebook
Register your touristic spot dans la Vienne it's free (in French)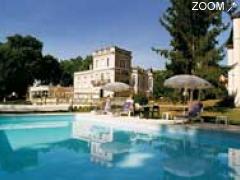 TVORG-726
Update informations
Low season of 88€ to 156€

Restaurant Menu of 32 to 58 €

**Tourisme-Petit déjeuner**









Disponibilités
Mr Jean-Luc GERBIER
10 Rue du Champ de Foire
86360 Chasseneuil-du-Poitou (Vienne)
Phone : 05 49 52 86 66
- Fax : 05 49 52 86 32

http://www.ribaudiere.com
Welcome to Château du Clos de la Ribaudière, a superb residence typical of the Poitou region, whose history dates back to the nineteenth century.
Meticulously restored, this three star hotel offers you a superb range of accommodation consisting of forty-one particularly spacious rooms, all of which combine elegance and comfort.
Our restaurant combines tradition with creativity. Whether it be for a business meeting, a family gathering or a wedding, our hall can cater for between 15 and 300 people.
Register your touristic spot dans la Vienne it's free (in French)