Heritage, visit, Tourist information en Charente
Add to my travel notebook
Register your touristic spot en Charente it's free (in French)
See accommodation nearby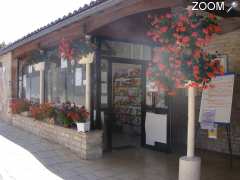 TVORG-1861
Update informations
Disponibilités
Antenne d'Aigre
Rue des Halles
16140 Aigre (Charente)

http://www.ruffecois-tourisme.com

Pays Ruffécois Tourisme
Aigre, situated to the north of Cognac possesses the oldest existing Cognac"house", dating from 1755.It is a calm and tranquil market town with a mild agreeable climate.
Builton alluvial soil and watered by a channelled stream, the Osme, which borders many of is houses. Tne olders parts of Aigre are typified by narrow lanes, small domestic gardens and little bridges, ideal ,for strolling, exploring and relaxing.
The Aigre region is rich in historial interest: Tuson, Saint-Fraigne, Marcillac-Lanville are equally interesting.
Register your touristic spot en Charente it's free (in French)