Accommodation, Hotels en Charente
Add to my travel notebook
Register your touristic spot en Charente it's free (in French)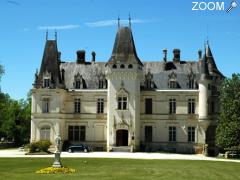 TVORG-3861
Update informations
Average season of 135€ to 450€

High season of 135€ to 450€
Disponibilités
M. BODINAUD
Chateau de Nieuil
16270 Nieuil (Charente)
Phone : 05 45 71 36 38
- Fax : 05 45 71 46 45

http://www.chateaunieuilhotel.com/
In the heart of the beautiful countryside of the Charente département, as you travel along a side road, the magnificent and haughty, château de Nieuil comes into view.

Beautiful Renaissance facades, fat round towers surrounding the main building, a water-filled moat, a formal garden – after just that first glance you will want to stay the night, for a weekend, or for even longer ! François I had the right idea – the Château de Nieuil was one of his favourite hunting residences.

Majestic trees, green lawns and a peaceful lake all add to the calm and peacefulness of the place. Would you like to come in? Please do!
Register your touristic spot en Charente it's free (in French)