Art and craft, Art, Craft and Gallery en Charente-Maritime
Add to my travel notebook
Register your touristic spot en Charente-Maritime it's free (in French)
See accommodation nearby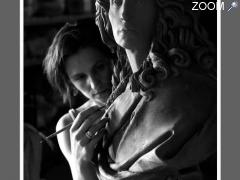 TVORG-5532
Update informations
Disponibilités
Atelier Campo
57 rue des Jars
17000 La Rochelle (Charente-Maritime)
Phone : 05 46 09 93 79
- Mobile phone : 06 35 94 17 54

http://www.ateliercampo.net

Atelier Campo
Enjoy a guided tour of a classical sculpture studio 5 minutes from the Vieux Port.
This space of 200m2 in the image of a small theater, materializes the dream of saving a living cultural heritage, Lafayette, Maris Antoinette but also contemporary creations and works around the oven waiting for cooking. Discover this place full of history and touch the clay through the discovery
* Guided tour of the workshop and introduction, about 1 hour by appointment, 6 €
Technology, the history of our 18th days, arts and crafts.

Register your touristic spot en Charente-Maritime it's free (in French)